Dad, how do I? is a YouTube channel which is run by Rob Kenney who's dad passed when he was 12 years old. He has raised two children and decided to make an YouTube channel where he will teach basic things which a kid ask to father. His main focus is to teach kids who lost their father.
Born

Not yet published

Age
Not yet published
Birth place
USA
Real name
Rob Kenney
Channel type
Educational
Occupation
YouTuber
Early life
---
Dad, how do I? (Rob Kenney) was born in USA. His father away when he was 12.
YouTube
---
Dad, how do I? (Rob Kenney) created the YouTube channel in Apr 1, 2020 and gained worldwide popularity in 17 May, 2020 when his story went viral on social media. His channel earned half million subscriber in one day with over million of views.
Viral
---
Dad, how do I? (Rob Kenney)'s YouTube channel was created in the beginning of April and it gained some views but the channel went virus after someone posted his story on Reddit. Later one, the story went viral on Twitter too.
In 19 May, 2020, someone named "Chris Hart" posted the story on Facebook and it went super viral over the world. And the channel earned 500k subscriber just in 18 hours. Which is less then 24 hours and a record.
Story
The viral post title was"
This YouTuber's dad walked out on his family when he was 12 years old.
Now that he's a father of his own two adult children, he's created a YouTube channel called "Dad, how do I?" where he posts videos of common tasks you might ask your dad for help with, so that children without fathers can use his videos as a resource.
I don't know this man, but he got an instant subscribe from me. What an amazing, selfless thing to do for someone else. It's stories like these that give me hope for humanity".
Worldwide response
---
Dad, how do I? (Rob Kenney) received positive response from worldwide. Many people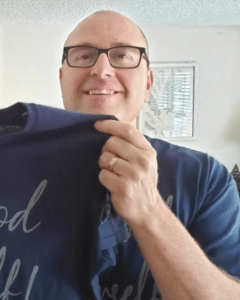 commented on viral post about how their childhood passed without their father and how difficult it is when your father passed a way when you are kid. They have cried to see someone created YouTube to help these kids who lost their father.
A girl from UK commented on the YouTube video "I lost my dad when I was 3 years old and I don't know how does it feel to have a dad over my head. Can I call you my father please?"
The video mainly went viral on America, Europe and Asia. However, the channel received response from Africa and Australia as well.
External links:
Profiles