Giovanni Morassutti is an Italian actor, director, and cultural entrepreneur. Since 2001, he has appeared in over twenty films. He is the founder and artistic director of the international art residency: Art Aia – Creatives / In / Residence. In 2016, he wrote the preface for the Italian translation of John Strasberg´s book Accidentally on Purpose (2000). Morassutti has also directed plays that have been presented in theatres around the world.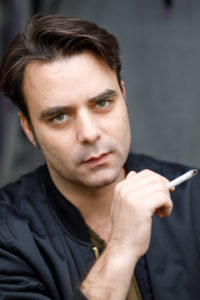 | | |
| --- | --- |
| Birth name | Giovanni Morassutti |
| Nickname | Zuan |
| Birth date | March 15, 1980 |
| Place of birth | Padua, Veneto, Italy |
| Age | 43 years |
| Sign of the sun | Pisces |
| Job | Actor, director and cultural entrepreneur |
| Nationality | Italian |
| Ethnicity | White. He has German and Polish ancestry on his mother's side and is Italian descent on his father's side. |
| Residence | Berlin, Germany |
Family
---
Giovanni's paternal grandfather was architect Giovanni Morassutti (the son of Federico Morassutti and Gianna Lucchetti). Giovanni was born in Padova, Veneto, Italy. Federico was an entrepreneur, and a prominent member of the Morassutti family, the son of Paolo Morassutti and Antonietta Zamperini. Giovanni's paternal great-uncle was notable architect Bruno Morassutti, who was married to the niece of Italian writer Dino Buzzati.
Giovanni's paternal grandmother was Maria de Besi, Countess (the daughter of Count Andrea de Besi and Marquise Emilia Buzzaccarini). Maria was born in Padova, Veneto, Italy. Emilia was from the ancient aristocratic family of Veneto.Giovanni's maternal grandfather was named Eric Piwko. Eric was a German doctor, who had Polish ancestry.Giovanni's maternal grandmother was named Countess Ilse Schlichting.
Education
At 18 years old Giovanni moved to New York City to study in deep the work of the realistic school of acting. First he started as an intern at the Actors Studio, auditing and observing the sessions for one year and eventually becoming a student of Salem Ludwig at the HB studio. In 2001 he met John Strasberg, son of Lee Strasberg, with whom he has been studying and collaborating as a coordinator for his workshops in Italy and lately also in Berlin. He wrote the preface of the Italian version of Strasberg´s book Accidentally on purpose.He is a graduate of the Centro Sperimentale di Cinematografia directed by actor Giancarlo Giannini.
Private life
---
Giovanni was born on March 15, 1980 in Padua, Veneto, Italy. He is currently 39. His birth sign is Pisces.
Professional statistics
---
While living and studying in America, Giovanni worked as an actor in several productions directed by Ellen Stewart, founder of La Mama e.t.c., Ted Mornel, Kathleen M. Wilce, and Gus Van Sant. In 2004 he returned to Italy where he was cast in several roles in theatre, film, and television.As a Theatre director he has been directing Sola in casa (Alone at home) by Dino Buzzati starring Lydia Biondi and presented at the Cherry Lane Theatre in 2012 and Madre sin Panuelo by Jorge Palant sponsored by the Argentian Embassy and presented in Rome and Milan in the fall of 2015. In 2016 he moved to Berlin where he was cast in For the time being directed by Daniela Lucato that was presented at the 71st edition of the Cannes Film Festival.Giovanni Morassutti is also the founder and artistic director of Art Aia – Creatives / In / Residence which is an international art residency promoting artistic production and research that focuses on the development of the creative process and facilitates cultural exchange across borders. In the past few years he invited to work at the residency international teaching artists like John Strasberg and Italo-Palestinian artist Mustafa Sabbagh who thought a photography masterclass in 2014. He also hosted several artist collectives like Marsala 11 and the Institut für Alles Mögliche of Berlin among others supporting them in the development of their work with exhibitions and open studios. In 2016 Giovanni Morassutti founded in Berlin, Art Aia-La Dolce Berlin, which is a project space that shares many crossovers with the Italian headquarters including a facilitation of cultural activities and an interest in cultural research and artistic experimentation. Several artists and artist collectives have been hosted in the Berlin affiliation space including Wyatt Mills (USA), Roger Thorp (UK) and Kaoru Shibuta (JPN).
Giovanni Morassutti Favorite things
---
Cast – Daniel Day Lewis , Christopher Walken
Food – Pizza
Childhood film  – Stand by me (1986 )
Books – Crime and Punishment, Three sisters, The Divine Comedy
Color – Green
Giovanni Morassutti's net worth
---
Giovanni Morassutti net worth is pending.
Giovanni Morassutti Facts
---
His parents divorced when he was 4.
While living in New York City he worked as a busboy and a bike messenger.
Often plays emotionally troubled characters.
He interned at the Actors studio for about one year observing the work of its
members including Estelle Parsons, Lee Grant and Eli Wallach among others.
He acted in movie Last days directed by American film director Gus Van Sant.
He performed in several stage productions directed by Ellen Stewart during a month-long festival of Greek classics at La Mama in New York as well as in Spoleto.
He wrote the foreword of Per scelta, per caso. Oltre l´Actors studio written by his mentor John Strasberg.
He co-founded Art Aia – La Dolce Berlin which is a project space, in the field of contemporary art that hosts artists from all over the world and give them an opportunity to showcase their work in the city of Berlin.
He attended the 71st edition of the Cannes Film Festival as a cast member of For the time being directed by Daniela Lucato.