HSC Result 2023 and equivalent exam results for 2023 will be released on February 8, according to Tapan Kumar Sarker, convener of the Inter-Education Board Coordination Committee and chairman of the Dhaka Education Board. The exams were concluded on December 30th, but the results were delayed due to the late arrival of exam papers from outside the country amid the COVID-19 pandemic.
The process of sending marks from nine general, madrasa, and technical education boards has been completed and the work of creating the final results through software is underway. The results will be sent to the Ministry of Education once ready, and a date for release will be selected and sent to the Prime Minister's Office.
According to Prof Nehal Ahmed, president of the Inter-Education Coordination Board and chairman of the Dhaka Secondary and Higher Secondary Education Board, the delay in preparing the results will not allow for a release in the first week of February. However, it is hoped that the results will be published by February 13.
Quick Info

Exam

HSC/Alim

Location
 Bangladesh
Year
2023
Result published date
8 February, 2023
Full Marksheet

Online

GPA 5
2 lakh (approx)
How to Check HSC Result 2023?
---
HSC (Higher Secondary Certificate) results for the year 2023 will be published on February 3, 2023 on the official website of the Education Board Results (educationboardresults.gov.bd). There are several ways to access your HSC result, including online through the official website, via SMS on your mobile phone, and by watching a video.
Online Method:
Follow these steps to check your HSC result online: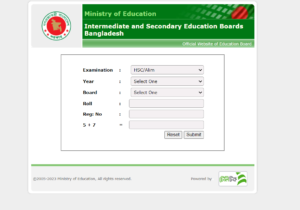 Visit the official website – educationboardresults.gov.bd
Select "HSC/Alim" from the "Examination" option.
Choose "2023" from the "Year" option.
Select your education board from the "Board" option.
Enter your HSC roll number accurately in the "Roll" option.
Input your HSC exam registration number carefully in the "Reg: No" option.
Solve the numeric captcha (for example, 4+3 = 7).
Review all information and click on "SUBMIT".
Your HSC result for 2023 will be displayed.
Please note: On the results publication day, many people visit the official website to check their results, which may cause the site to slow down or become temporarily unavailable. In such cases, try checking your result a few times.
Mobile SMS Method:
You can also check your HSC result 2023 via SMS on your mobile phone. This is a simple and popular method, and you can access your result from the comfort of your home. Your phone quality does not matter; all you need is to send a message to the Teletalk Bangladesh Limited education board results portal number. The step-by-step instructions are provided below:
After the results are published, go to your phone's message option.
As an example, if you are an HSC examinee from the Dhaka Education Board with a roll number of 123456, you would send the following message: "HSC DHA 123456 2023" to 16222.
You will instantly receive your result and GPA, including your name and roll number. The result receiving time may vary based on server response time, network quality, sending serial, and your location.
You will receive another SMS with your full result (marksheet) 4 hours later.
Please note: Before sending the message, make sure to recharge your mobile account, as each SMS sent will cost you 2 Taka (including VAT, SD, and SC).
HSC Result 2023 Board Short Names for Mobile SMS
---
To save you time, we have listed all the education boards in Bangladesh and their first three letters for use in the mobile SMS method:
Barisal Board = BAR
Chittagong Board = CHI
Comilla Board = COM
Dhaka Board = DHA
Dinajpur Board = DIN
Jessore Board = JES
Mymensingh Board = MYM
Rajshahi Board = RAJ
Sylhet Board = SYL
Madrasah Board = MAD
Technical Board = TEC
Checking Dhakil Result 2023 for the Madrasah Board by SMS
---
To check your Alim result 2023 for the Madrasah Board, you need to send the following message: "Alim MAD [roll number] 2023" to 16222
Checking Dhakil Result 2023 for Madrasah Board by SMS
To check your Alim Result 2023 for Madrasah Board, you need to send a message as follows: Alim [Board short name] [Roll number] 2023 to 16222.
HSC Result 2023 Published Date
The HSC result 2023 will be published on February 3, 2023, on the official website www.educationboardresults.gov.bd. This is where the Secondary School Certificate and equivalent examination results will be published.
Simple way
How to Check HSC Result 2023: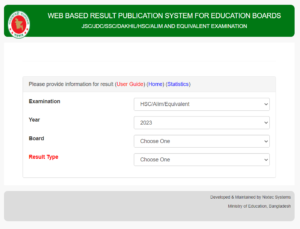 Go to eboardresults.com website or click on the link provided.
Select "HSC / Alim / Equivalent" as the examination type.
Choose "2023" as the year of examination.
Select your education board from the list of boards.
Choose "Individual" as the result type.
Enter your Roll Number.
Optionally, you may also enter your Registration Number for detailed results.
Complete the security check.
Click on the "Get Results" button to view your results.
Pre-Registration for HSC Result 2023:
The pre-registration process for HSC and equivalent results of 2023 has begun. You can pre-register until the moment before the result is released. Pre-registration is done via SMS and can be sent from any mobile phone. Standard SMS charges apply for each registration.
By pre-registering, you will receive your results as soon as they are released. You will receive a message from Teletalk Bangladesh Limited with your result information. Pre-registered students will receive their results faster than others.
Conclusion
Thank you for visiting this website. If you cannot find your result, please comment below with your roll number, registration number, and board name, and we will try our best to find your result as soon as possible. Keep visiting our website for all exam results of Bangladesh Education Board.