James Merritt is a Full-time YouTube and Facebook Influencer. Commonly known by his TV Show name Into The Water With James. They upload many scuba diving videos where they go out searching for treasures. Finding an array of items from sword from the 1930s, megalodon teeth and human remains. First gained popularity by exploring local water ways and cleaning the trash that others leave behind.
Name

James Merritt

Born
September 10, 1986
Age
36 years
Birth place
Cadillac, Michigan
 Height
5′ 10″
Occupation
Internet Influencer
Early life
---
James Merritt was born in September 10, 1986 in Cadillac, Michigan. His father name is Richard Merritt, and mother name Rhonda Thompson. He has one brother named Jason Merritt and a sister who's name is Heather Merritt.
Education :
James Merritt graduated from Cadillac High School.
Move to Florida:
At age 25 he decided to move to Florida where he found his passion for cleaning the rivers and searching for treasure.
Online career
---
YouTube:
James Merritt founded YouTube channel titled "Into The Water With James" in Mar 24, 2016. The channel gained 30,000 subscriber.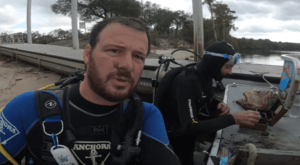 Facebook:
In May 2019, James started the Facebook page titled under YouTube channel and earned huge popularity in a short time.
His one video titled "Nothing Can Stop You From Diving" went viral and gained worldwide response. The video was shared by many people and viewed by over half million people.
Did you know…
He found 14kart Fancy Green Diamond Earring worth over $1.5k and returned to it's owner.
He has found Old Knife From 1950s.
He has been Featured in TV20 WCJB – Looking For Wedding Ring Owner.
Profiles