Kris Lal is a New Zealand media personality, musician, director, entrepreneur, businessman and social media infulencer who has gained popularity after working in several international music with well known artist such as Chingy. He has also worked as an entrepreneur and founded several social media agency including Curatorsocial Ltd.
Born
17 July, 1983
Age
39 years
Birth place
Lautoka, Fiji
Occupation
Director, Musician, Social Media Influencer
Nationality
Indo Fijian/Nepalese
Education
The University of Auckland (2002-2005)
Official website
https://krislal.com
Musical career
Genres
R&B/Soul

Years active

2014 – present
Labels
Kris Lal LTD

Associated acts

Chingy
Early life
---
Kris Lal was born on the 17 th of July, 1983 in Lautoka, Fiji Islands His mother is a lecturer, he is the grandson of notable Fijian Lawyer Rishi Shankar. He was raised and received his education in Auckland NZ, he majored in Business , Marketing and Film TV and Media at The University of Auckland.
Personal life
---
Kris Lal is not married yet and is still single.
Career
---
Music
Kris Lal made his international musical debut in 2013 as (ChristopherKris) producing and featuring on the single 'Watch the World featuring platinum USA based rapper Chingy.
Success
The single enjoyed success on both the Australian and New Zealand chart peaking at #2 on the rnb chart . He followed this with his single 'In My Hands' featuring the legendary Tionne TBoz Watkins of TLC, the single also enjoyed success and charted at #2 in Australia and #3 in New Zealand on the rnb chart respectively. After successfully promoting and producing his own music.
Entrepreneurship
He set up and launched the social media agency Curatorsocial in 2017 to help brands connect with influencers and celebrities worldwide. He has also launched his Instagram page @pharoahq and has amassed over 70k fans.
Books
---
7-STEP GUIDE FOR SOCIAL MEDIA CAMPAIGNS

***Facts About KRIS LAL***
Does he smoke?: No
Does

he

 drink alcohol?: No
Kris Lal was born in Fiji and raised in Auckland and Sydney.
Height?:                      1.82 m
Weight?:                    74 Kg
Hair Color?:              Black
Eye Color?:                Light Brown
Hobbies?:                  Films, Fitness, Music.
Favorite food?:         Donuts, Lobster and French Fries.
Favorite color?:      Blue, black, Gold and Rose Gold.
Did you know…
Kris Lal became known on social media in 2017 but music career began in 2014.
He is one of the worlds most famous Indo-Fijian artists and business people.
He has been featured in publications such as Forbes ,Business NZ, Verve Magazine, Stuff and Business publication.
He collaborated with Tboz of TLC fame and Chingy on his first two singles but charted in 2007 as part of the group MnW.
He has over 70k fans on Instagram and 300k on his business Curatorclique.
He is a black belt in Taekwondo and competed at national tournaments during his earlier years.
NOTABLE MOMENTS
| Year | | Event |
| --- | --- | --- |
| 1983 | | He was born on 17 July, 1983  in Lautoka, Fiji Islands |
| 2014 | | Released single 'In My Hands' feat Tboz of TLC |
| 2017 | | Launched his Social Media Agency Curatorsocial. Profile @pharoahq on Instagram. |
| 2017 | | Featured in several media outlets including Forbes. |
| 2019 | | Launched and sold out his eco fashion brand for men Ben Bali |
| 2020 | | Gained worldwide popularity |

Profiles
Kris Lal Photos
---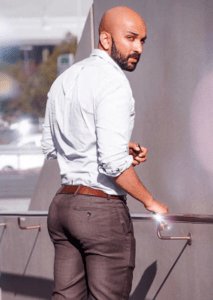 Links:
https://simple.wikipedia.org/wiki/Kris_Lal
https://www.wikidata.org/wiki/Q100271155
https://www.goodreads.com/book/show/55525660-7-step-guide-for-social-media-campaigns 
https://www.goodreads.com/author/show/20768531.Kris_Lal
https://books.google.com/books?id=ZSwAEAAAQBAJ
https://en.wikialpha.org/wiki/7-STEP_GUIDE_FOR_SOCIAL_MEDIA_CAMPAIGNS
https://en.gyaanipedia.co.in/wiki/Kris_Lal
https://en.gyaanipedia.co.in/wiki/7-STEP_GUIDE_FOR_SOCIAL_MEDIA_CAMPAIGNS
https://kris-lal.fandom.com/wiki/Kris_Lal
https://kris-lal.fandom.com/wiki/7-STEP_GUIDE_FOR_SOCIAL_MEDIA_CAMPAIGNS
https://kris-lal.fandom.com/wiki/Kris_Lal_Wiki
https://www.imdb.com/name/nm11629362/
https://www.deezer.com/en/artist/98019332
https://www.deezer.com/en/album/155109862
https://www.amazon.com/s?k=Kris+Lal&i=digital-music&search-type=ss&ref=ntt_srch_drd_B08BBJ7FRB
https://open.spotify.com/track/6UkAnRCA5XUFtZQj5Leco3?si=QRILxZ0hSHCBMioaB7ODfQ
https://www.kkbox.com/sg/en/song/zFa00D8PMP.Km1GPKm1GP0XL-index.html
https://www.kkbox.com/sg/en/artist/nyrjfvA24Jcw20F01Ik3j08L-index-1.html
https://music.apple.com/us/artist/kris-lal/1518740252
https://www.jiosaavn.com/song/unreleased-demo/H1sdBAdGUWI
https://www.jiosaavn.com/artist/kris-lal-songs/RBEsnFfufyk_
https://spinlet.com/nigerian-artists-and-international/580635
https://spinlet.com/music-and-genre-album/1139595
https://music.yandex.com/artist/9424738
https://unreleased-demo-by-kris-lal.mp3quack.com/
https://www.iheart.com/artist/kris-lal-34636928/albums/unreleased-demo-104754174/
https://www.iheart.com/artist/kris-lal-34636928/
https://listen.tidal.com/artist/20042608
https://listen.tidal.com/album/145351832
https://musicbrainz.org/artist/2d52a97c-8149-464b-b27e-d56b1387d9c7
https://www.discogs.com/artist/7981654-Kris-Lal