Nadimul Islam is a renowned Bangladeshi Entrepreneur and Businessman. He was born on January 12, 1995, in the Chapainawabgonj district of the Rajshahi division in Bangladesh. From a young age, Nadimul demonstrated a remarkable passion for business and dedicated himself to building a successful career in the field. His strong work ethic and determination propelled him forward, leading to his current position as the CEO of Nazrul Auto Rice Mill.
Born
12 January, 1995
Age
28 years
Birth place
Chapainawabgonj, Bangladesh
Occupation
Businessmen & Entrepreneur

Religion

Islam
Height
 5 ft 8 inc
Education

Mosjed Mission Academy Rajshahi
Rohanpur Yusuf Ali College
Rajshahi University

Career Overview
Genres
Business

Years active

2013– present
Companies

Nazrul Auto Rice Mill
Nazrul Auto Rice Mill's Unit-3
Nadim Auto Rice Mill's
Nazrul Dairy Farm
Nazrul Transport
Nazrul Mango Garden
Nazrul Foundation
Nadia Tredars
Nazrul Filling Station
Nazrul Fish Farm
Nazrul Tredars

Annual income
N/A
Early life
---
Young entrepreneur Md. Nadimul Islam. Who is known as Nadimul Islam? Nadimul was born on January 12, 1995, in the Chapainawabgonj district of the Rajshahi division in Bangladesh. His late father, Alhaj Nazrul Islam, was a businessman, and his mother, Alhaj Monowara Begum, is a housewife. Nadimul is married to Afifa Tahmida Islam, who is also a housewife. They have three children: Abdullah Ibne Nadim, Nawsin Binte Nadim, and Ayesha Binte Nadim. Nadimul completed his schooling and college education in Rajshahi, Bangladesh.
Career
---
Nadimul Islam is a highly driven entrepreneur who comes from a loving and supportive family. Born to Alhaj Md Nazrul Islam and Monowara Begum, he grew up in an environment that nurtured his aspirations and instilled in him the values of dedication and hard work. As the eldest among his five brothers, Nadimul embraced the responsibility of being a role model, setting a high standard for his siblings to follow.
During his academic journey at the University of Rajshahi, Nadimul embarked on his entrepreneurial path. Recognizing the significance of combining theoretical knowledge with practical experience, he actively sought opportunities to develop his business acumen. His time at the university played a pivotal role in shaping his entrepreneurial mindset, equipping him with the necessary skills and insights for future endeavors.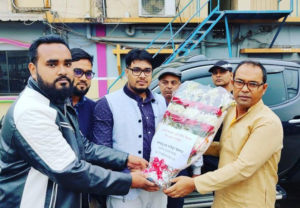 Nadimul's journey, from his humble small-town upbringing to his current status as a distinguished entrepreneur, serves as an inspiration to aspiring businessmen and women, not only in Bangladesh but also beyond its borders. His story underscores the importance of determination, perseverance, and unwavering self-belief in achieving success.
As Nadimul Islam continues to make strides in the business world, he remains committed to personal growth and expanding his influence. Driven by a lifelong passion for entrepreneurship, he is poised to make a lasting impact on the business landscape, both within Bangladesh and globally.
Entrepreneurial & Bussiness career
---
In 2012, Nadimul Islam made a significant personal commitment by marrying Afifa Tahmida. Their union has been a source of unwavering support and encouragement, allowing Nadimul to focus on his entrepreneurial pursuits. Afifa stands by his side, contributing to his achievements and being an integral part of his success.
Nadimul's hard work and dedication paid off when he assumed the role of CEO at Nazrul Auto Rice Mills. Under his leadership, the company has experienced remarkable growth and success. Furthermore, Nadimul expanded his business ventures to include Nazrul Auto Rice Mills Unit-3, Nadim Auto Rice Mills, Nazrul Dairy Farm, Nazrul Fish Farm, Nazrul Mango Garden, and Nazrul Transport. Through his strategic vision and commitment to excellence, he has established a prominent presence in multiple industries.
Despite his professional accomplishments, Nadimul Islam remains deeply connected to his roots and actively contributes to improving his community. He is passionate about giving back and frequently engages in philanthropic activities to uplift the underprivileged. Through his philanthropic endeavors, he strives to make a positive impact and create opportunities for those in need.
Nadimul's entrepreneurial journey, supported by his loving family and driven by his dedication to excellence, serves as an inspiration to aspiring entrepreneurs. His ability to balance business success with community engagement showcases his commitment to holistic growth and making a difference in the lives of others. With a bright future ahead, Nadimul continues to pursue new opportunities, expand his business empire, and leave a lasting impact on both the business world and the community he serves.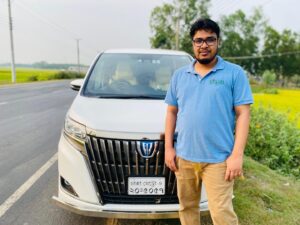 Personal life
---
Father: Late Alhaj Nazrul Islam.
Mother: Alhaj Monowara Begum.
Wife: Afifa Tahmida Islam.
Son: Abdullah Ibne Nadim.
Daughter: Nawsin Binte Nadim, Ayesha Binte Nadim.
Sister: N/A
Brother: Khadimul Islam, Hisbullah, Mahibullah, Hasibul Islam Nahid.
Religion: Islam.
High School:- Mosjed Mission Academy.
College:- Rohonpur Yousuf Ali Govt College.
University:- Rajshahi University.
Facts About Nadimul Islam
---
Does Nadimul smoke?: No
Does Nadimul drink alcohol?: No
Does Nadimul Have a spouse : Yes (Afifa Tahmida Islam)
Does Nadimul Have a Girlfriend : No
Does Nadimul Have Son?: Yes (Abdullah Ibne Nadim)
Does Nadimul Have a Daughter?: Yes (Nawsin Binte Nadim & Ayesha Binte Nadim)
Nadimul was born and raised in Chapainawabgonj district of the Rajshahi division of Bangladesh
Height?: 5'8
Weight?: 90 Kg
Hair Color?: Black
Eye Color?: Black
Ethnicity?: Bangladeshi
Zodiac Sign?: N/A
Hobbies: Travelling, Bike Racing, Car Racing, Garden, Reading Books
Favorite food: Kacchi Biriyani, Chinese, Fishing, Hyderabad Biriyani, Mango, Beef, Rice
Favorite color: White & Black.
Favorite sports: Cricket, Football, Badminton.
Did you know…
---
He is also known as a business expert in Bangladesh.
His Nazrul Auto Rice Mills is very popular in Bangladesh.
Links