Md Mehedi Hasan, popularly known as Shovon Ahmed (born April 8, 2003) is a Bangladeshi freelancer and entrepreneur known for his expertise in digital marketing, search engine optimization (SEO), and social media marketing (SMM). He is the founder of Raw Marketer, an agency specializing in digital marketing solutions.
Born
8 April, 2003
Age
20 years
Birth place
Noakhali, Bangladesh
Occupation
Freelancer, Entrepreneur

Religion

Islam
Height
 5 ft 6 inc
Education
Bamoni Degree College (2019-2022)
Career Overview
Company founded
Raw Marketer

Years active

2019– present
Industry
Digital marketing, SEO, SMM
Key role
Founder & CEO
Early life
---
Shovon Ahmed, whose full name is Md Mehedi Hasan, was born in Musapur village, Companigonj upazila, Noakhali, Bangladesh. He was raised in a humble family, the son of Md Nurul Afsar and Bibi Kulsum. Shovon has a sister named Fahmida Sultana. He completed his schooling at a local educational institution in Noakhali. In his personal life, Shovon Ahmed follows the Islamic faith. He resides in Uttara, Dhaka, and leads a disciplined lifestyle. Shovon's parents, Md Nurul Afsar and Bibi Kulsum, have played a significant role in shaping his character and supporting his endeavors. In 2023, he married Suraiya Akhter, who is a housewife.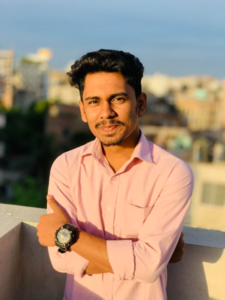 Education
---
Shovon Ahmed further pursued his higher education at Bamoni Degree College from 2019 to 2022. Currently, he continues his academic journey at Noakhali Government College.
Freelance Career
---
Shovon Ahmed embarked on his freelance career in 2019 and has been actively involved in the digital marketing industry since then. His areas of expertise include digital marketing strategies, search engine optimization, and social media marketing. With a keen understanding of the ever-evolving digital landscape, Shovon has helped numerous clients enhance their online presence and drive business growth. He established his own digital marketing agency called Raw Marketer, where he serves as the founder and plays a key role in driving its success. Through Raw Marketer, Shovon Ahmed provides innovative solutions and strategies to help businesses thrive in the competitive online space.
Personal life
---
Father:- Md Nurul Afsar
Mother:- Bibi Kulsum
Sister:- Fahmida Sultana
Wife  :- Suraiya Akhter (2023 – Present)
Brother:- N/A
Religion:- Islam
Facts About Shovon Ahmed
---
Does Shovon Ahmed smoke? : No
Does Shovon Ahmed drink alcohol? : No
Is Shovon Ahmed Married? : Yes
Shovon Ahmed was born in Musapur village, Noakhali.
Height? : 5 Feet 6 Inch
Weight? : 60 KG
Hair Color? : Black
Eye Color? : Dark
Hobbies? : Tour, Hangouts, Learning
Favorite food? : Kabab, Biryani
Favorite color? : Black, White, Purple, Pink
Did you know…?
---
Shovon Ahmed does not smoke or consume alcohol. He stands at a height of 5 feet 6 inches (167.6 cm) and maintains a weight of 60 kilograms. He has black hair and dark-colored eyes. Shovon has a passion for traveling, spending time with friends, and continuously learning and improving his skills.
Regarding his preferences, Shovon Ahmed enjoys kabab and biryani as his favorite foods. He has a fondness for colors such as black, white, purple, and pink.
Shovon Ahmed is a young and ambitious individual who has made significant strides in the field of digitalmarketing. With his dedication and expertise, he continues to contribute to the growth of businesses and aims to make a lasting impact in the industry.
Social Media Links
---