Taalpatar Shepai is a famous musical band based in Kolkata. The main Artists of the band are Pritam Das and Sumon Ghosh. Pritam Das is the vocalist, composer, and arranger for the band. He has been learning music since childhood and was a runner-up in the 28th National India Talent Hunt. He was trained in Indian Classical, Rabindra Sangeet and Nazrul Geeti, and later introduced to Western Music as well. Suman Ghosh is the group's main instrumentalist. He is also a composer, arranger, and mixing engineer with a love of rock music. The duo's are well-known for ukulele arrangements, incredible staging and cinematography of their music videos. Taalpatar Shepai incredibly unique for their arrangements.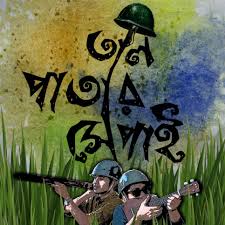 Name

Taalpatar Shepai
Artists
Pritam Das, Sumon Ghosh
Followers
670 K (Facebook)
330 K (YouTube)
227 K (Instagram)
Type
Musical Band
Facebook
Taalpatar Shepai

Net Worth

USD 1-3 million (approx.)

Nationality

Indian
YouTube
Taalpatar Shepai

Years Active

2011-Present

Award

Not Published 

Contact number

+918910467849
Career –
Taalpatar Shepai is the creative partnership of musicians Pritam Das and Suman Ghosh. The duo has been making music together since 2011 and released their first videos under the name Taalpatar Shepai in 2017. Although met with a small response at the very start, it did not take long before their performances began going viral across social media. Their eclectic influences, from rock and western folk to indian classical, helped to create a completely new and original sound. In 2019, Taalpatar Shepai was selected in Youtube NextUp among the Top 10 Artists and left audiences enamored with the previously unheard-of pairing of ukulele and the Bengali language.
Musics-
Ami Sudhu Khujechi Amay
Moddhorate
Ogochhalo Mon
Nakshikanthar Rajar Konna
Shonar kathi
O Doyal Bichar Koro
Moshader Chumu
Oi Janalar Kache
Chander Sohor
Gopon Premika
Train E Der Thikana
Megher kole Rowd hesheche
Kalboshekheer Poddo
Firey Jawar Pothe
Tritiyo Ripu