Ayman Sadiq is a Bangladeshi Internet personality, public speaker, and online teacher who established 10 minutes of school in March 2015. This is an institution; Which provides free education information and collaboration online. This institution has made two thousand videos for audiences (who learn from here). This institution is primarily a primary, secondary, higher secondary and admission test, which is included in the academic syllabus and how to improve skills on various subjects; Make videos with it.
Born
2 September 1992
Age
31 years
Birth place
Comilla, Bangladesh
Education
Business Administration, DU
Profession
Teacher, speaker
10 minutes school founder
Home Town
Comilla
Parents
Abu Taib
Sharmin Akter
Website
aymansadiq .com
Early life
---
Ayman Sadiq was born in 2 September 1992 in Comilla, he is a child of the Muslim family. His father Brigadier General Taib is the chief financial officer of Bangladesh University of Professionals and his mother Sharmin Akhter, a housewife. He has a brother named Sadman Sadik.
Education
---
Ayman studied at Cantonment School and College, Chittagong . He has studied in higher secondary Adamjee Cantonment College Public School. 
Ayman completed his graduation in business administration from IBA (Institute of Business Administration), Dhaka University.
Personal life
---
 Ayman Sadiq got married to Munzereen Shahid and his relationship status is mingle.
Career
---
Ayman worked in education and technology. His "10 Minute School" is an online school designed for video lecture audiences on how to read the SSC, HSC and various public universities, medical colleges and engineering institutes for admission tests. His first book, Never Stop Learning, was published in the Amar Ekushey Book Fair in 2018 .
in 2019, he published more books.
YouTube Career
YouTube information

Also known as
Ayman
Channel
Years active
2012–present
Genre

Vlog
education
teaching
DIY
popular culture

Subscribers
470k
Total views
20 million
Network
10 minutes school
Associated acts
Tahsan

100,000 subscribers
2018
1,000,000 subscribers
N/A
Awards
Queens Young Leader Award 2013 
BRAC Manhattan Digital Innovation Award
Glomo prize, barcelona
Swiss Embassy Award for Social Impact 
Youth Award 2016 
DIVF Ioth Icon Award
Bismetros Champion 
Brandwitz '13 champions
Unilever Future Leader's League 2016 
MWC Award 
Glomo Awards in the World Mobile Context
Books
---
***Facts About Ayman Sadiq***
Does Ayman Sadiq smoke?: No
Does Ayman Sadiq drink alcohol?: No

Ayman

was born and raised in Comilla.
Height?:                       5 feet 6 inch
Weight?:                      57 Kg
Hair Color?:               Black
Eye Color?:                 Dark
Hobbies?:                   Writing, shopping, traveling, speaking.
Favorite food?:         Rice, Biriyani, Pizza
Favorite color?:       Blue, black, white and red.
Did you know…
Ayman 

is also a digital consultant.
He became known in Bangladesh after making some of educational videos.
Also he got huge fan base in social media.
He has huge fan base in West Bengal, India.
He is YouTuber such as TahseeNation. Even their genre are different.
NOTABLE MOMENTS
| Year | | Event |
| --- | --- | --- |
| 1992 | | He was born on 2 September 1992 in Comilla, Bangladesh. |
| 2012 | | He started his YouTube channel. |
| 2016 | | Became known for his good work. |
| 2017 | | Released some videos and all were successful. |
| 2018 | | His some of trending videos crossed over million views on YouTube and Facebook. |
| 2018 | | His book "Never stop learning" became best seller in 21 book fair. |
Profiles
 

Ayman Sadiq Photos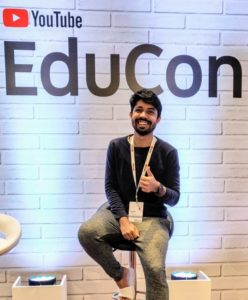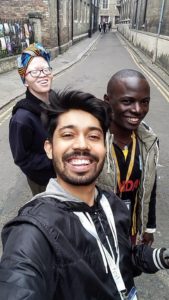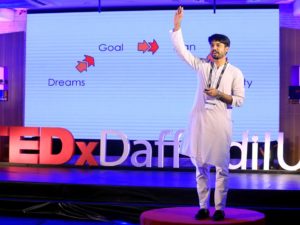 References
---
 Official website || Wikipedia || Forbes || BiographyBD ||  Famous Birthdays || Queens Young Leaders || Prothom Alo || Rokomari.com || the daily star ||