Ahona Rahman Lucky (born April 4, 1987) is a Bangladeshi actress and model born in Patuakhali district , who started her career under the name Ahona. 
Ahana Rahman Lucky

Born
Age
36 years
Birthplace
Patuakhali , Barisal , Bangladesh
Education
BBA
Maternal education
Mirpur Girls High School, Commerce College
Occupation
Actress , model
Working life
2007-present
Style
Drama , Romance , Comedy , Action
Height
5 ft 5 in (1.65 m)

Husband

Shamim Hasan Sarkar
Ahona Rahman

Wiki/Bio
---
Ahana Rahman was born in Patuakhali district of Bangladesh. She passed her secondary from Mirpur Girls High School and then completed her higher secondary from Dhaka Commerce College. Then completed BBA.
Ahona Rahman Boyfriend/Husband
---
Ahona Rahman got married to actor Shamim Hasan Sarkar in 2022. Together, they have worked in many dramas like Biyer Trouble and Koti Takar Kabin. She was preveously married to Rahid Mannan Lelin in 2011 and got divorced in 2012.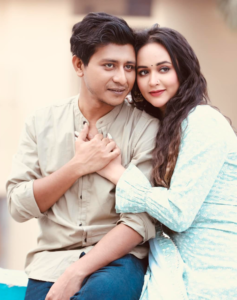 Acting career
---
Ahona started her acting career from 2007. She also worked in Dui Prithibi with co-actor Shakib Khan. She has also worked with Tawsif Mahbub, Farhan Ahmed Jovan and Musfiq R. Farhan.
Filmography
| Year | Film | Role | Director | Notes | Ref. |
| --- | --- | --- | --- | --- | --- |
| 2008 | Chakorer Prem | | Rakib Alam Rakib | | |
| 2009 | Jolodussu Rokto Rohosso | | Roman Robin | | |
| 2015 | Dui Prithibi | | F. I. Manik | | |
| 2016 | Chokher Dekha | | P.A. Kajol | | |
Television
Roser Hari
Comedy 420
Noashal
Mohaguru
Khali Kolsi Baje Beshi
Bisshase Milay Bostu
Choita Pagla
O Amar Bondhu
Korban Alir Korbani
Opekkha
Ek Polokey
Mamar Hater Moa
Projapoti Mon
Nishi Raat-er Golpo
Yes Boss No Boss
Joiboti Koinya
Nojorbihin Nojor Ali
Talbaba
To To Company
Kata Tarer Bera
Third Eye
Three Comrades
Dui Takar Bahaduri
Tin Tala Tin Chabi
Palki Vromon
Baba
Manush
Otopor Ekti Khun
Heart-e Du Du
Shagai
Khorom
Shundor Ali
Ekdin Shopno Rongin
Biborton
Dokkhina Pobon
America to Ashulia
R Banabo Na Natok
Obosheshe Natok Shesh Holo
Opekkha
Shodor Ghater Tiger
Not Out
Obosheshey Natokey Porinoto Holo,
Onnorokom Eid
Mamar Breaking News
It's A fact
Ontor Bivrat
Amra Tinjon
Ayna Ghor
Unlimited Haso
Rupali Prantor
Shanti Adhidaptar
Mon Thekey Durey
Mofizer Shundori Bou (2022)
Chini Jamai (2022)
Loser (2022)
Husband Er Biye (2022)
Palabi Kothay (2022)
Good Luck (2022)
Crush Jokhon Trash (2022)
Girlfriend Jokhon Oggan (2022)
Shoshur Bari Noakhali (2022) as Bilkis
Bhalobashia Gelam Fasia (2022)
X Akhon Vabi (2022)
Shoshur Bari Noakhali 2 (2022)
Argentine Girlfriend (2022)
Gonda Girlfriend (2022)
Analog Love Guru (2022)
Khela Hobe (2022)
Girlfriend Er Ma (2022)
Amar Driver Bou (2023)
Meet My Wife (2023)
Bhai Er Hobu Bou (2023)
Se Kotha Rakheni (2023)
Bou Hebbi Demandful (2023)
Sottobadi Husband (2023)
Jamai Keno Chor (2023)
Talak (2023)
Mala Tumi Kar (2023) as Mala
Going Bidesh (2023)
Gramer Girlfriend (2023)
Biyer Trouble (2023)
Ghotok Boyfriend (2023)
Chele Amar Pochondo Na (2023)
Web series
| Year | Title | OTT | Role | Director | Notes |
| --- | --- | --- | --- | --- | --- |
| 2020 | Sadarghater Tiger | Binge | | Sumon Anwer | |