Sheikh Ahmadullah is a well-known Islamic speaker who hails from Bangladesh. He was born on December 15, 1981, in Bashikpur, Laxmipur and spent his upbringing there. He is an Islamic scholar with a passion for researching the Qur'an and Hadith. He shares his insights and findings with the world through his videos, which are published on As-Sunnah Foundation's YouTube channel. Sheikh Ahmadullah has made a significant contribution to the Islamic community by publishing over 100 research articles on various topics. His works showcase his expertise and dedication to the Islamic faith. Out of the 100 articles, 15 have been published in Bengali and Arabic, making it accessible to a wider audience. He has become an influential figure in the Islamic community and continues to spread knowledge and wisdom through his works.
Quick Facts

Native name
শায়খ আহমাদুল্লাহ
Born
December 15, 1981
Age
42 years
Birthplace
Laxmipur, Bangladesh
Education
Islamic University, Darul Uloom Hathazari
Occupation
Islamic Scholar
Known for
Islamic videos
Organization
As-Sunnah Foundation
Children
4
Website
https://ahmadullah.info
Biography
---
Sheikh Ahmadullah was born on 15 December 1981 in Bashikpur of Lakshmipur district. Father's name is Mohammad Delwar Hossain, mother's name is Mosammat Delwara Begum. Father was a businessman and mother was a housewife. He is the second of six siblings. Sheikh Ahmadullah is the father of three sons and one daughter.
Sheikh Ahmadullah Education
---
Sheikh Ahmadullah's education is in the hands of his caring mother. Primary education at Bashikpur Primary School. After that, he was admitted to Qaumi Madrasah. After studying in several Madrasahs of Noakhali for a few years, he got admission in Hatiyar Faizul Uloom Madrasah. There, the opportunity to get closeness and studentship of the legendary scholar, Deen Mufti Saiful Islam (R.H.) was created. After that, he got admission in Darul Uloom Hathazari Madara, the largest religious institution in the country. Qaumi Madrasa Board of Education (Befaq) got 10th place in (Sanubiya) Higher Secondary Examination, 3rd place in Graduation (Fazilat) and 2nd place in Combined Merit List in 2001 Dawarae Hadith. After finishing the Hadith in Dawara, he completed the Ifta from Khulna Darul Uloom.
Read Also: Mizanur Rahman Azhari Wiki/Bio, Age, Wife, Education, Family, Photos
Career
---
After completing his education, he joined Darur Rashad of Mirpur as a teacher. He worked there from 2003 to 2009. He also taught Hadith at Arzabad Madrasa in Mirpur for a year. Besides, from 2004 to 2009, he performed the duties of Imam and Khatib at Baitul Falah Jame Mosque in Mirpur. In 2009, an opportunity came to work in an international environment. Because of his special skills in Arabic, he was called to the Middle East. Joined the Islamic Dawah Center in West Dammam, Saudi Arabia. Worked there for about ten years as a preacher and translator. He gained the trust and love of Bangladeshis as well as Arabs.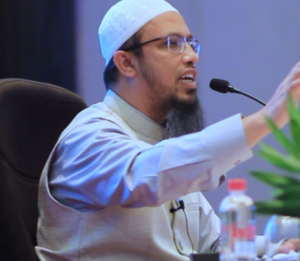 ---
Sheikh Ahmadullah established 'As-Sunnah Foundation'. The institution is working in three divisions – education, service and dawah.
As part of practicing pure thought and pure knowledge, he gave lectures on various open platforms including most mainstream television channels and waz mahfils.
Writing
---
Besides discussing about Islam, Sheikh Ahmadullah also wrote. His book 'Dua and Zikr of Rasulullah (Sallallahu Alaihi Wasallam) in the Morning and Evening' and cards of 'Dua and Zikr after the Five Obligatory Prayers' have been distributed till date (2/2022) in over three lakh copies. . So far, he has written about hundreds of articles on dawah and research. His writings were published in leading media of Bangladesh. Many of his articles have also been published in Arabic.
Sheikh Ahmadullah is currently serving as Khatib of Bhumipalli Jame Masjid in Narayanganj.
Read Also: Mamunul Haque Wiki/Bio, Age, Wife, Education, Family, Photos
Books
---
সীরাত স্মারক
রমাদান প্ল্যানার
রাসূলুল্লাহ (সা.) এর সকাল সন্ধ্যার দু'আ ও যিকর এবং দোয়ার কার্ড
Did you know…?
---
Crossing the borders of the country, he has already participated in several international events in Japan, India, United Arab Emirates and Saudi Arabia.
Because of his special skills in Arabic, he was called to the Middle East. Joined the Islamic Dawah Center in West Dammam, Saudi Arabia.
Contact of Sheikh Ahmadullah
| | |
| --- | --- |
| Address (office) | Plot-70, Road-3, Block-C, Dhaka 1212 |
| Phone number | 09610-001089 |
| Email | assunnahfoundationbd@gmail.com |